Posted by Charles | January 24, 2008 .
From time to time the failed life of Java Applet flashes back to my mind and I'm always amazed on how technology comes and goes. I've got such moment when login to the site called PARLEYS.com, a Belgium e-learning site that utilizing Flex and Adobe AIR applications as platform to be a Java learning place. You would think the site made of Java would make more sense, again, you would think.
Parleys.com is a new BeJUG initiative where the different recorded talks from JavaPolis, BeJUG, SpringOne, JaZoon, JavaZone and EclipseCon and get published on a regular basis. The Parleys site wants to become the premier Java e-learning site where you can listen and subscribe to many Java related podcasts or view the video talks, hopefully all resulting in improving visitors' Java skills.
Parley comes with a Adobe AIR desktop version that can be download it here.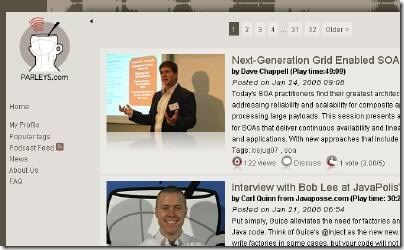 Posted under
Adobe AIR
,
Adobe Flex
|
2 Comments
Like this article? Subscribe to our RSS Feed