Posted by Charles | January 25, 2008 .
The startup Lovely Charts came out with limit beta this week. I just love it. I really want to use some great words to show my affection about this Flex site but eventually end up stealing the word, Lovely, from the site. It's just lovely!
It's said the office productive tools are leading the SaaS trend. I believe it. They are all over the place on the web, Google Doc, Google Presently (Powerpoint clone), Zoho Office tools, Microsoft Office Live, Adobe Buzzword, Flash/Flex Powerpoint clone Empressr.com, to name a few. How about Visio replacement online? Well, that's what Lovely Charts does.
Lovely Charts is Flex flaw charts drawing application that communicates with PHP/MySQL backend using AMFPHP gateway. It doesn't have all the features like the Flash sister competitor Gliffy.com does, however, the UI design is, well, lovely. The design and usability resembles the early stage of Buzzword when it just came out. You can just jump in and start drawing flow chart, and forget about the tool itself. The beauty of RIA application.
Lovely Charts is not wide open for beta so that you have to register it and wait to see if you are granted access. But it worth the wait.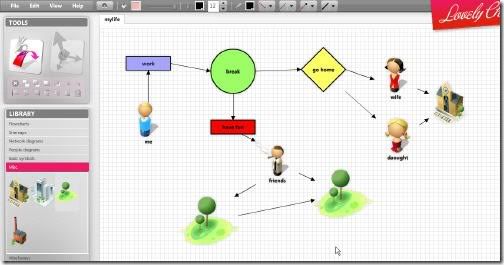 Posted under
Adobe Flex
,
Startups
|
1 Comment
Like this article? Subscribe to our RSS Feed