Posted by Charles | January 29, 2008 .
I've been talking a lot about Flash based desktop sites such as yourminis.com. Web Desktop or webtop used to be a crowded area for startups. There are whole bunch of them in AJAX such as netvibes, which is still kicking and thriving. Of cause, Gazzella iGoogle is in everybody's way. But I should say, in terms of UI, Flash based webtop is still in the lead. Here is an example, myGoya.
MyGoya is created by MAGIX, a very creative company and is good at Flash development. MyGoya is just one of its Flash based online services. Once you registered and login, the desktop is very pretty. All the the tools have very elaborated features and good looking. Their office products such as Sheet and Writer are the integration with Zohu, a SaaS based online office productivity company whose products are all AJAX based.
You can also find those common tools such as file manager, notebook, bookmark manager, etc. I think myGoya is an excellent show-case of Flash based online application, even though I doubt the viability of its business model. I won't use it as daily bases.
There are things I can't figure out over there though. Such as, you can create new tab of desktop but there is no obvious way of using it. Also, the site's native language is, well, I don't know. The English version UI from time to time brings up labels in the language that I can't read.
Anyway, it's worth a register, login and having some poking-around. And they do have good designers.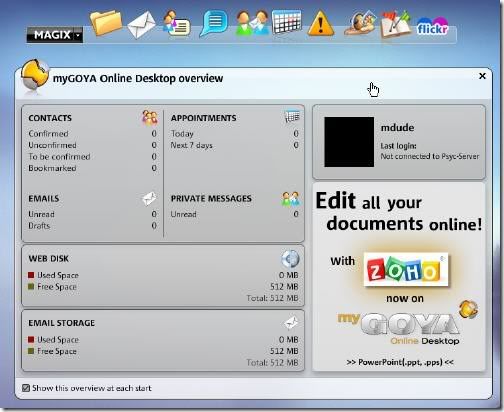 Posted under
Adobe Flash
,
Startups
|
2 Comments
Like this article? Subscribe to our RSS Feed