Posted by Charles | February 4, 2008 .
With the arrival of RIA technologies, user interface has become more dynamic and richer than ever before. Various new Web sites and Web applications have been created with the help of Rich Internet Applications. While some like MiniUSA have decided to go in for total revolution in user-interactivity based on RIA, some other services, like the Social Messaging platform Snockles (www.snockles.com), have gone in for a more balanced approach that refrains from jarring users totally.
Snockles is a free Social Messaging service which can be used both through the Web and a mobile phone. With Snockles, you no longer have to be tied to your desktop for the purpose of Social Networking; you can connect with your friends, family and colleagues wherever you are.
The Snockles Web site has both static and dynamic elements. While the background is traditional, points of user-activity are RIA-based. So users can enjoy the benefits of a richer experience while they are posting messages, updating their location information, or submitting questions. On the Everybody page, new Snockles (messages) are displayed in tandem with regular updates without the requirement of any page refresh. The Web site is evolving rapidly and there have been various incremental updates over a short span of time. It can be expected that more interactive features would be added soon to provide users an even richer experience.
Over the past decade, users have developed a very specific model in their mind about how Web sites and Web applications look, feel and behave. Rich Internet Applications can now be used to turn that model on its head; but taking the middle path like Snockles has done feels like a more natural transition to the lay user. That way, Snockles connects better to its users by retaining the core look and feel that is comparable to that of a conventional Web page, while simultaneously introducing interactive features where it really matters. It is a smart design decision, optimally utilizing the strengths of both RIA technologies and traditional Web design.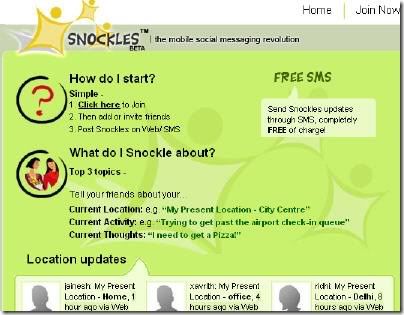 Posted under
RIA Resource
,
Startups
|
Comment
Like this article? Subscribe to our RSS Feed