Posted by Charles | February 13, 2008 .
Rich Internet Applications are allowing designers to create Web sites in such original ways as could never be imagined before. RIA technologies are offering a number of new options for designing a creative visual interface.
A case in point is Mini USA (www.miniusa.com); this is the home of BMW's popular Mini Cooper. Effective using Rich Internet Applications, MINIUSA.com has broken new ground in design and user experience. With an aim to engage users in enjoyable and unusual ways, MINI USA has enriched MINIUSA.com with various creative features, a few of which can transform the look and feel of the Web site in quite remarkable ways. MINIUSA.com has been designed in such a way that car enthusiasts and owners are enticed to explore and discover a variety new, interesting content.
When you visit the site, you'll first be amazed by the amazing responsiveness and interactivity built into the site, and also notice that you never have to navigate away from the main page. All information that you require, no matter how deeply embedded, flows to the screen effortlessly through various graphics and animation.
You can explore the various available options, design and customize your own Mini, learn more about product features, explore the inner workings of the cars, play games, compare different models, and yes, even get all the required help to buy a car!
MINIUSA.com, a showcase of Rich Internet Applications, has been designed to "surprise and delight". The interactive design was created by Firstborn, together with Butler, Shine and Stern, the San Francisco-based advertisement agency.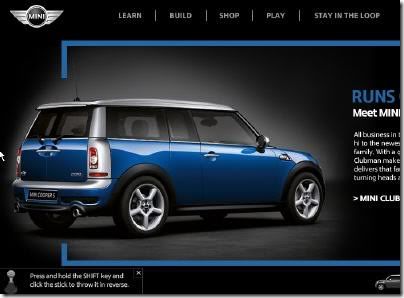 Posted under
Adobe Flash
|
Comment
Like this article? Subscribe to our RSS Feed