Posted by Charles | February 19, 2008 .
I wrote about how you can become a comic artist in 2 minutes and create your own cartoons easily online. I am sure those will bring out your hidden artistic god inside if you have one. But what if you are just a ordinary funny person without much of talent, like most of us are? There always something for everyone online. Try comiqs.com.
In a nut shell, comiqs allow you create comic strip without drawing. You just put some photos together in the Flash editor environment. Then write your funny lines in those pop-up templates (you can write, don't you?) That's it. I really don't know how low it can be in terms of creativity. All you need to do is to be funny. Even though I'm not sure that's a good thing or now, I do appreciate how web commoditizes creativity.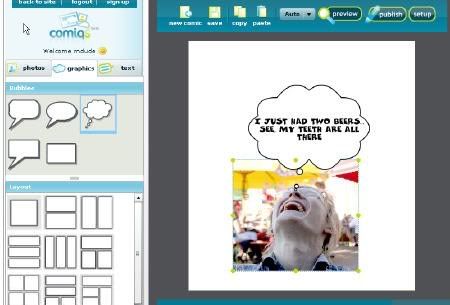 Posted under
Adobe Flash
,
Startups
|
1 Comment
Like this article? Subscribe to our RSS Feed