Posted by Charles | March 5, 2008 .
Microsoft released Silverlight 2.0 beta at MIX08. You can get it from here. For developers want to give it a spin, go download Silverlight tools for VS2008, which provides a Silverlight project system for developing Silverlight applications using C# or Visual Basic. Silverlight Tools Beta 1 for Visual Studio 2008 includes:
Visual Basic and C# Project templates
Intellisense and code generators for XAML
Debugging of Silverlight applications
Web reference support
Integration with Expression Blend
The most significant new development from Silverlight 2.0 is full set of controls, which the first time makes Silverlight a tool for developers. Before this, Silverlight is merely an engine with raw framework.
We all started learning Flex by going through Flex Component Explorer, Microsoft goes to the same proven route (surprise) with Silverlight Control Demo Page. I'll do a comparison later. From a quick review, Silverlight has much less controls than Flex has. The styles of the controls are obviously not as pretty as Flex's. This observation is not based on how much I like Flex. I think Silverlight's controls might be intentionally designed to be what they are (or MS people are not as artistic as Adobe's). Because those controls look more close to HTML controls' look and feel. Flex's, in the other hand, are distinguishably different from HTML UI style. Even though adding controls is a huge step forward for Silverlight, I don't think they did a good job. Flex 1.5 did much much better improvement than Flex 1.0. They did created sense of hype around 2.0 but I kinda feel relief a bit. I think Silverlight is still many steps behind Flex, at least from developers' perspective.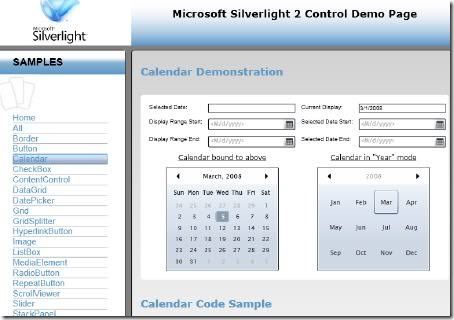 And, as wrote about yesterday, Microsoft announced Silverlight 1.0 for Mobile today. They will have the First Developer CTP for Silverlight for mobile available in 2nd Quarter of CY 2008 targeting Windows Mobile 6. Initially only Silverlight 1.0 (not 2.0) will run on mobile devices. Because XAML is the foundation of Silverlight, Microsoft Expression Studio will provide features for designing Silverlight. Expression Design can be used for creating the visual elements while wiring the design with code can be done with either Expression Blend or with Visual Studio.
Posted under
Microsoft Silverlight
|
5 Comments
Like this article? Subscribe to our RSS Feed