Posted by Charles | March 14, 2008 .
Nokia is buying Qt for $153 million. Nokia is actually buying Trolltech, but the target is Qt. So, what is Qt anyway?
Trolltech is the company develops a Linux-based mobile platform called Qtopia that includes a mobile Qt stack. It's the company behind Qt, a cross-platform rich application development framework. It includes:
Since all the RIA players are moving into mobile space (Microsoft's Silverlight, Sun JavaFX and Adobe Flash Lite 3), could Qt be a player too by join Nokia? Is Nokia using it moving into platforms rather than mobile phone? What Qt to with Microsoft Silverlight, which recently moved to Nokia's Symbian platform? Too many questions. But first, let's take a look at Qt's architecture: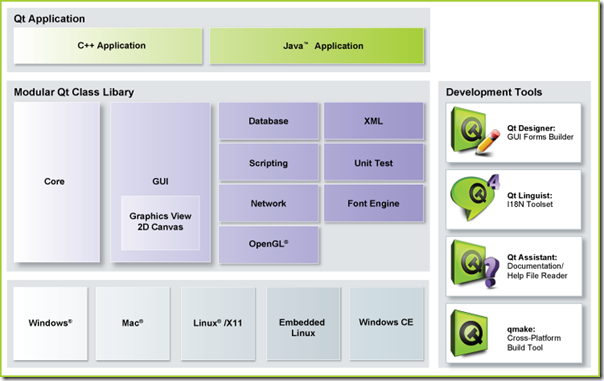 This is a very impressive technology stack. consider browser based application can't play well on a mobile phone, a full stack application development platform will be something developers love. And, it's cross-platform. It has 2D graphic engine and supports OpenGL. The Java application development support could be attractive to a large developer community as well. Therefor, it's obvious Nokia won't stay in the mobile space for ever, just like other technology providers want a piece of mobile.
If Nokia, the largest mobile device maker in the world, starts pushing Qt to mobile application developers, we'll have another major mobile RIA player.
Hurry up, Adobe Flash Lite (real Flash for mobile)!
Posted under
Mobile RIA
,
Technology
|
Comment
Like this article? Subscribe to our RSS Feed