Posted by Charles | March 24, 2008 .
Do you know what Google Map was written in? Google claimed that the whole Google Map client side was written in Java, yes, Java, by using the Google Web Toolkit (GWT). GWT is "open source Java software development framework that makes writing AJAX applications like Google Maps and Gmail easy for developers who don't speak browser quirks as a second language." But I think because it's too controversy and unconventional, GWT hasn't really gotten too good traction. Until now.
The startup GWT-Ext is to make GWT a serious RIA player.
I'm very excited when first bump into GWT-Ext. The WT-Ext widget library (thinking component lib) combines GWT and JavaScript library Ext JS together to offer very rich set of UI components, much richer than even our beloved Flex component set.
For example, within Forms, there are 10 form components including Anchoring, Simple, FlieldSet, Multi Column, Load/Submit, Multiple Fields on Row, Form as Tab, Form with Tab, Form Grid Binding and Dual Item Selector, just to give you a feel.
I think all the Java developers will love this dearly. You can continue writing in comfortable Eclipse IDE in Java and wala, generate nice looking AJAX UI. Maybe it's about time dump JSP.
You really need to check out the Showcase Application, aka Component Explorer. If you know Flex Explorer, then everything expected is there, samples and source code.
If Google starts getting into the UI stuffs, I won't be surprised GWT-Ext be bought up by it. We'll see.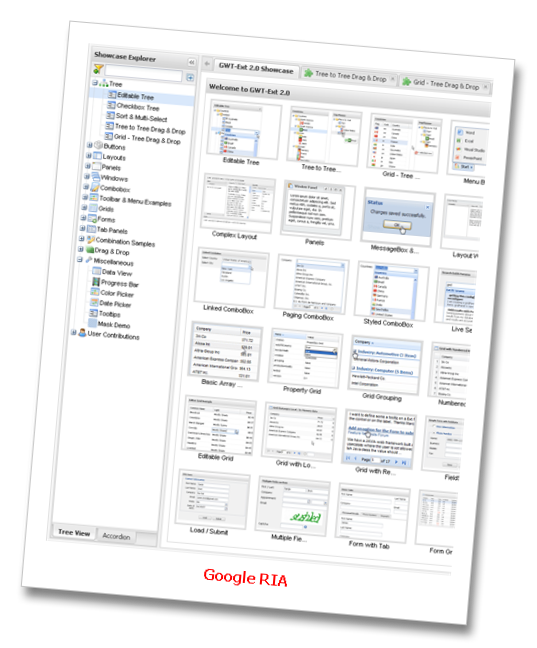 Posted under
RIA Resource
|
3 Comments
Like this article? Subscribe to our RSS Feed