Posted by Charles | March 26, 2008 .
"A 100% web-based system that allows knowledge workers to create their own custom business applications. There's never any software to install or servers to maintain. Just think it, build it and share it!"
And it's all in Flex too. Can it that easy?
I tried and it's quite good. This startup (started a while ago) is called Coghead. It's one of few startups that trying to allow develop and host codeless web applications, sort of SaaS platform. Coghead utilize both Adobe Flex and Amazon Web Service as building blocks, for UI and backend. Put its business model aside, it's really a good case of utilizing Flex building business focused RIA systems.
The application authoring environment is very sophisticated and I can't think of a better way to make it happen without using Flex. Especially the workflow driven development with all the visual elements drawing up, it could play very nicely with business people who have enough tech savvy. They've done a great job in terms of usability. The system literally guide you through to develop the first application with very minimum guess works at your side. The form creation tool is like cool IDE with UI components at left and drag-n-drop operation.
Coming to think of, something like Coghead built on top of enterprise SOA environment would be very useful to connect business applications with IT services. That means, at least it's my thinking, if their business model can work out, there is plan B, Enterprise, to give it a kick.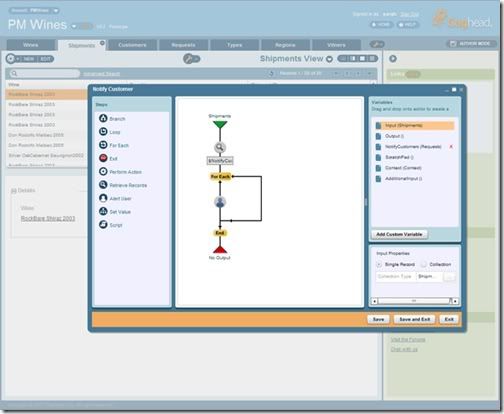 Posted under
Adobe Flex
,
Startups
|
Comment
Like this article? Subscribe to our RSS Feed