Posted by Charles | March 31, 2008 .
I wrote about Google's release of its MapIconMaker JavaScript library last week. From a comment of it I got to know another Map Icon Factory site that could help developing richer GeoWeb applicaiton, Mapcion Factory by CatoSoft.
It's for profit site that requires to pay to get access the large stored map icons. However, if you have a design idea in mind, you can use the interactive tool to design your map icon for free. I'd say the design tool is good enough for most of the map icon needs.
To design a map icon (aka marker), you just follow 5 well layout the steps.
1. Select the marker. There are 30 type of marker shapes to pick.
2. Specify size in pixels
3. Select a style. There are about 40 symbol styles, 10 character styles plus the number style from 1 to 99. Enough for creating interesting icons.
4. Select fill color. You can pick a color from the dragable color wheel.
5. Generate the mapicon.
That's it. The first 5 generated icons are free. You can download the images or give email address to be sent to you. If you have an account with them, the 35 generated icon can be access from the account.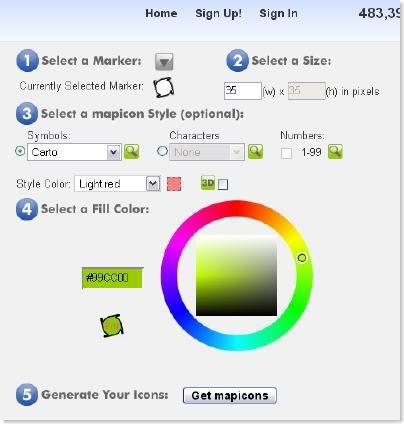 Posted under
RIA Resource
|
Comment
Like this article? Subscribe to our RSS Feed