Posted by Charles | April 2, 2008 .
Is this the same startup I wrote couple of times? That's the reaction I got when login to the new Toufee Pro after receiving a closed beta invite.
To understand why I'm pleasantly surprised you need to go back to my previous posts on Toufee in 2006 and 2007. Since then I've totally forgotten about those nice Flash dudes (Flex dudes now). Didn't realize that they are still cranking out good stuffs. Late this week, they will release the beta to public. I have 10 invites to give out if you want to give it a try.
The previous Toufee was sort of hubby type of Flash implementation, it did the job but not that appealing. Now the new one is becoming a fairly complete authoring environment with very sleek UI, all in Flex.
Just in case you are curious, Toufee is WYSIWYG online Flash movie builder to enable everyday internet users to create powerful flash content online – quickly and easily! Toufee Pro (or version 2.0) is a total rebuild brand new product using Flex 3.
The new Toufee uses the newly released YouTube API so that the Flash movie made on Toufee can be uploaded to YouTube directly. I would say this is the single most important feature that will make Toufee successful.
Another feature I like is Inline image, video and music search. It is a feature that will make the authoring process real. Basically, you can perform inline search for images, music and video files directly from the movie maker interface. Toufee will include image results from its own stock database, dreamstime and flickr. The video results are from youtube, google videos, break and metacafe. The music search is provided by ccmixter.org, a free music website that provides music under creative commons license. This definitely give me a reason to start using it.
I don't want to (I can't) go over all the new features out there. After two years I still call Toufee a startup only because it is absolutely a new, feature rich and free online Flash authoring tool. They are now in the league of competitors like Adobe Premiere Express (Photobucket remixer), Flektor and Sproutbuilder. It's a good thing to have competitors like that.
Again, drop me a line here if need a invite.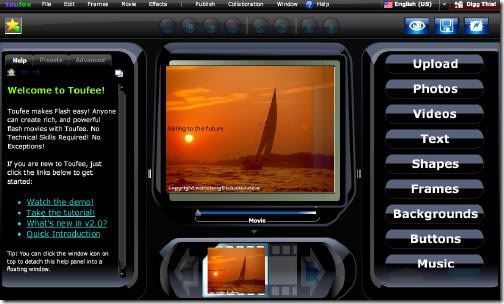 Posted under
Adobe Flash
,
Startups
|
4 Comments
Like this article? Subscribe to our RSS Feed