Posted by Charles | April 18, 2008 .
Moxie talked to the CTO of Lesson Nine GmbH, which created Babbel, the Flex based startup that helps learning new languages in the RIA way. The interview revealed the architecture of this Flex startup. I would say, so far, this is the best RIA startup architecture I've ever seen.
According to Thomas Holl, the CTO:
We've been working with 4 developers on Babbel – 2 of them focusing on the Flex client and 2 developing the Ruby On Rails based backend running on Amazon EC2 instances. We were starting from scratch in May 2007, so development time to the first public version in January 2008 was about 8 months.

The server consists of 12K lines of Ruby code, the Flex client is about 50K LOC (including 7K lines of generated integration code).

We're following an iterative development process – and found out that a length of one week seems to work best for us. Besides that, we're using best practice tools and processes, e.g. Subversion for version control, Trac for defect tracking/documentation/communication, automated builds/deployment via Ant/Capistrano, etc.
Wow, Flex + Ruby on Rails + Amazon EC2 + Subversion + Trac + Capistrano + Agile process!! Can it get any better? I'd like to worship those Babbel guys.
If you have been reading this blog you know I just love Flex and RoR combination and I truly believe the dual could be the greatest web application architecture. Then, you put them in a could or grid, that will be like living in a dream.
I don't I'll let Babbel pass easily. More diggings need to be done.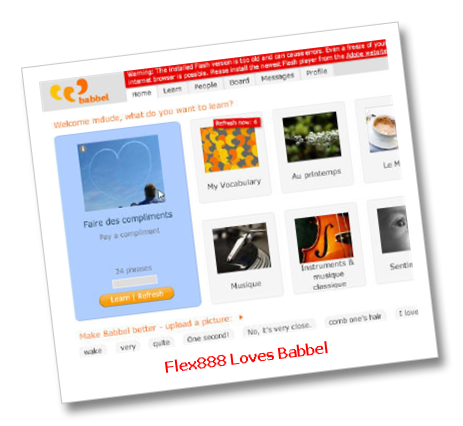 Posted under
Adobe Flex
,
Startups
|
2 Comments
Like this article? Subscribe to our RSS Feed