Posted by Charles | April 21, 2008 .
Increasingly web sites are utilizing RIA technologies to come up with stylish and user friendly interface designed to achieve various ends. In this league iexpenseonline.com makes a striking entry with its innovative online tools and elegant designs.
In a nutshell iexpenseonline.com is all about helping you take important decisions related to finance. It comes loaded with host of interesting features and has an intelligent online budgeting tool to its credit. The web site aims to track your financial activity within a secure environment and actively helps you achieve your financial goals.
Once you sign up and log in, you are greeted with your personal homepage that displays "Daily Rundown" and "Weekly Progress Chart" for your convenience. The major options including "Tracker", "Charts" and "Settings" are available at a click of mouse. It also gives you options like Plan and target whereby you can choose a plan that suits your needs. It also has a whole section for tips and also gives you the option to add a new tip. A closer look at its chart options displays a set of options that can be configured to track your progress. The data filter options provided in this section come real handy. Best part about the site is that it does not even cost a dime to use it as it is completely free.
The user interface boasts of fluidly moving elements that are complemented by equally appealing design and overall aesthetics. I for once felt the site was a real pleasure to use, specifically when contrasted with many other financial sites that sport a dull drab. The interesting use of RIA technologies has allowed iexpenseonline.com to provide for a great user experience and its perky appeal is sure go down well with lots of folks out there.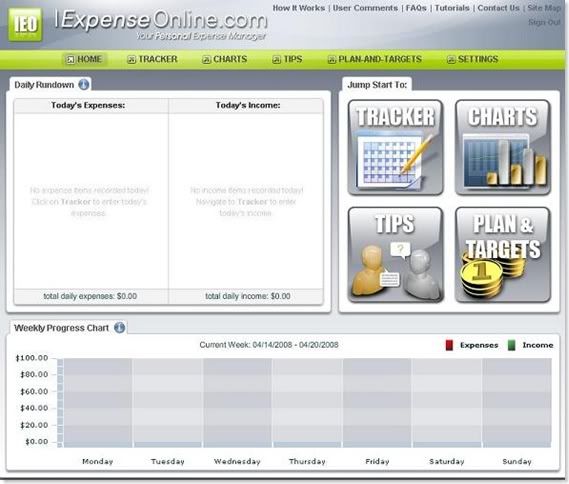 Posted under
Adobe Flex
,
Startups
|
Comment
Like this article? Subscribe to our RSS Feed