Posted by Charles | April 26, 2008 .
Though group management utilities have been in vogue for quite some time, they have not gained much currency amongst small business and communities. A significant part of this can be attributed to the drab outlook and difficult options that many of these tools portray. With Flex based Convos.com we get to see a radical shift in approach to group management which focuses on convenience and sleek appeal.
It is a platform that I really like to use; irrespective of whether it's a project that I am working on or communicating with my buddies. It can be used for any activity or union where there is a need to manage information, communicate, plan and share.
Convos.com comes loaded with simple intuitive tools to manage member roles and collect member data. Group Modules consists of the messages, events, tasks, photo files, pages, member's directory, items to approve etc. Once you have logged into your account you are frequented with a highly interactive user interface. Once can choose a group as per his preference. During creation of new group one has to mention group name, group email address, group description etc.
Much of its sublime user interface can be attributed to the rich internet based technologies that it incorporates which allows it to appeal a cross section of people.
The fact that it has an elaborate range of features to organize group activity which include feature that enable the drawing up of schedules and creation of member directories makes it rather handy tool.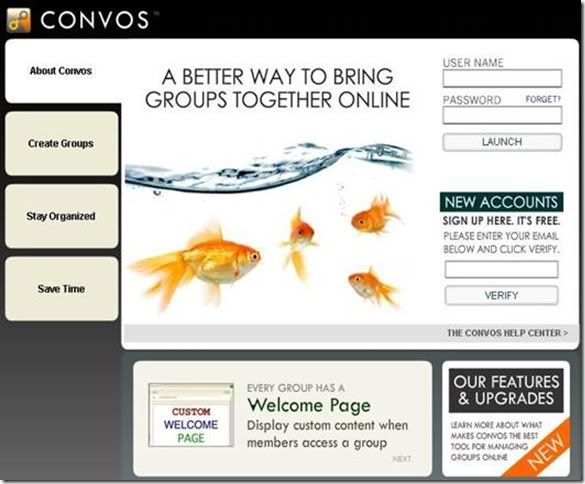 Posted under
Adobe Flex
,
Startups
|
Comment
Like this article? Subscribe to our RSS Feed