Posted by Charles | May 14, 2008 .
RIA based applications never cease to impress and Viewzi takes this even forward by presenting features that can literally change the way you search on the internet. Essentially it's a Flash based visual Search engine. It gives a chance to users to seek content of their choice visually and in many specialized way. The interactivity that one has with content makes this site addictive. And it brings best results from all major search engines like Yahoo, Google and many more. More specialized searches like music videos, photos, songs, movie clips, weather, news updates, shopping goes to Viewzi's credit. Viewzi provides different views for all of them with different perspective and different presentations .User can switch between views.
If user wants to check out a video, click on "Search". Next user has to select amongst various views like web screen shot, everyday shopping, videox3 view, basic photo, simple text view and many more. So for a video one can select video x3 view or can select even simple text view. Amazingly it brings search result along with preview of the same instead of enlisting the results. For a video per se, it brings results from "You tube" and "Blinkx". Not only this, one can listen to music and watch videos then and there. If one wants to check out other information like weather, click on small icons of all views on the top or on "View Mix" to switch another view. Viewzi is a wrapper around search engines that too with a difference. It's a delightful too to use and it sure make many converts in near future.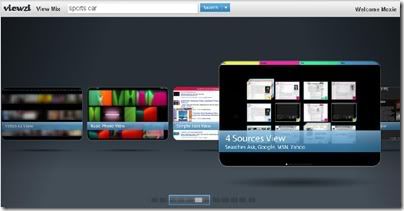 Posted under
Adobe Flash
,
Startups
|
1 Comment
Like this article? Subscribe to our RSS Feed