Posted by Moxie Zhang | May 16, 2008 .
Update: I said it's a peek and I meant it literally. So you can't see it anymore. Just wait.
A devastating earthquake hit Si Chuan province, China on 5/12. To support the earthquake relief efforts I created a web site to collect all the resources for donations, China-Earthquake-Relief.com. I wanted to put a dynamic map on it to demonstrate the helps from all over the world. So I tried the ESRI ArcGIS Flex API, which was just released for closed technology review and testing. It's a chance to give you a peek on the new Flex Map API around the block.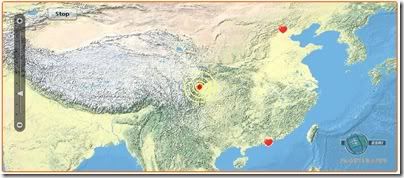 Posted under
Adobe Flex
,
GeoWeb
|
4 Comments
Like this article? Subscribe to our RSS Feed