Posted by Charles | September 8, 2006 .
It'll be awhile to get all the 100 ideas but I'll keep pushing on.
Idea 4 – Flexdget
I always think Flex could be a perfect tool for the "widgeting" trend in the web space. To make widget business works, these elements should be in place: Services, widget service regulator, widget API, widget container, widgets and a feasible monetization model.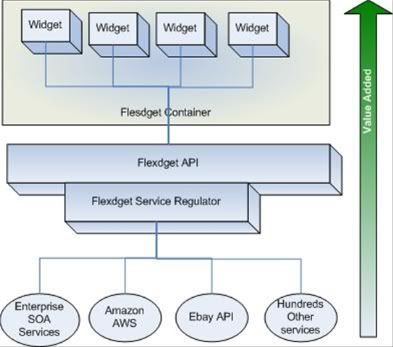 Services – There are hundreds of services available. The ProgrammableWeb.com keeps tracking all the web services. Of cause, as examples, we all know Amazon AWS, Google API or Yahoo API. For enterprise people, everyone is doing SOA, where enterprise services will be provided. The services can be available in many forms, formal web services (SOAP, ebXML, etc.), REST, simple XML over HTTP, traditional API proxy, etc. Therefore, we need the next Flexdget component, Service Regulator.
Service Regulator – From here, the access to services will be organized, monitored and controlled. Standard data definition will be imposed, security rules will be enforced. Considering each services will have it own way of dealing with security, data standard, transaction volume, fees, etc, this layer will definitely simply how the API will be developed and published.
Flexdget API – Once all the low level of plumbing has been taken care of by Service Regulator, a clean and simple API should be available to, good guess, build widgets.
Flexdget Container – Depends on what business model it goes, this could be plain browser, desktop, web desktop, blog platforms (WordPress, blogger, Typepad, etc.), CMS platforms, Portal platforms, mobile platform, etc. Therefore, the container is more or less a logical concept. In most cases, such as browser, it's given. But in some other cases, such as desktop or mobile platform, it might need developed or provided from, say Adobe.
Widget – One thing we have to be clear is that a widget is not an application. It's very simple, functional specific, unintrusive small but very useful piece of UI. You might be able to group/relate/associate a set of widgets to do complex task but you don't have to.
Business Model – In other words, how to make money out of this. In general, there could be two major model: transaction based and sponsor based. Transaction means the money is form the data flow. Sponsor means that the revenue is from advertisement. The possibilities can be abundant depends on how the business model get constructed.
Anybody interested?
Posted under
100 Flex Ideas
|
1 Comment
Like this article? Subscribe to our RSS Feed