Posted by Charles | June 11, 2008 .
Getty Images is the largest stock imagery company. It provides the publishing world with a big rich stock of photos, music, video footages and other creative services. This week they released a Flash based mashup application called Moodstream to expose their photos and videos in a very creative way.
It has a good reason to call it mood stream because from the UI you can use the fancy interface to adjust the mood you are in, your happiness level, how calm right now, more humorous than serious? Nostagic? be warm or cool. All these and other settings will lead to generate different stream of photos, music or videos.
Obviously, it's not personal, rather, it's a creative way of searching their large image and video database. It's business. If you find something you like, you can add it to the "moodboard" and take out wallet for a purchasing from Getty Images.
It's a challenge task to search media contents. There are many attempts of utilizing AI to extract meta information from the content of the media. In Getty's case, I'm sure they've done a huge task to tag their inventory and using the meta data to drive this Flash application. Once filtered through human eyes, it suppose more accurate for searching, I guess.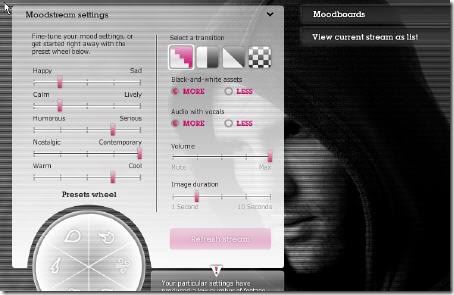 Posted under
Adobe Flash
,
Beautiful Web
|
Comment
Like this article? Subscribe to our RSS Feed