Posted by Charles | October 18, 2006 .
If you pay more attention on the web space, you would find out that the terms IRA and Flex show up together more frequently than before. Especially from those "web 2.0 expert" bloggers. I'm glad to find out there are evidences too.
Here is a Flex based map mesh-up startup (or is it?) Wheresyours.com. By looking at the way it starts, it seems very likely a Flex application.
The site, once you registered, allows you "pin" a location on the map, write up a log alike article and share it. It's interesting to play with it because it has the Google earth desktop tool alike feels.
Since it's a self-contained Flash application running within browser, there are few surprises when you flip page back and forth. I think Flash/Flex developers should really pay attention on the web browser usability pattern. If we can't fight it, adopt it.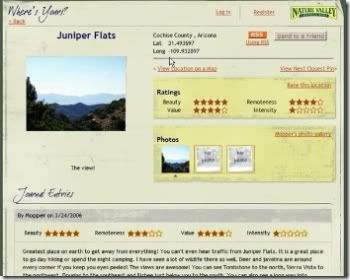 It's encouraging to see more Flash/Flex startups popping up more frequently these days. However, I can't figure out what is Wheresyours.com' business model. I can't think of any acquisition potential as well. I'll leave it as a good demo for now.
Posted under
Adobe Flex
,
Beautiful Web
|
2 Comments
Like this article? Subscribe to our RSS Feed