Posted by Charles | October 20, 2006 .
This will be a big winner. This is what makes Flash shining. This is where AJAX can't say me-too. Splice Music is so far the only Flash based social network startup that can't exist without Flash.
If you love music, if you want to have a taste of a DJ, if you want to do some remix (or splice), if you want to show you talent (or accidental good mix), Splice is the place. You can put some mp3 song/music together using the Flash mix tool and make the freshest and "coolest" music, and of cause record it. Then share it.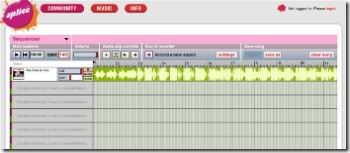 I believe the whole site is built with Flash. This is a Flash site doesn't fight with browser. It maintains the sense of traditional browsing experience and feels too. I believe good UI usability is partially based on user expectation. When people get on to web, they expect to "browse" the the web. If a Flash or Flex site fight the expectation with cool standout UI, that might not work. I don't think everyone will agree with me. I don't want to agree with myself either.
Again, I can't figure out what's the site's business model. I love it so much I don't care now.
Posted under
Adobe Flash
,
Beautiful Web
,
Startups
|
5 Comments
Like this article? Subscribe to our RSS Feed