Posted by Charles | July 1, 2008 .
It's almost half way into 2008. I think it's about time to have a reality check on what's going on in RIA space. Specifically, what's up with Adobe Flex, Microsoft Silverlight and Sun JavaFX, the so called RIA trio.
I believe what people want and look for show the best way to measure the trend. That's why I went to Google Trend. A quick check on the three gives back a chart tells an expected story:
From this chart, Flex shows a very consistent growth. The year 2007 is really the year sees accelerated increase in searching "Flex" on the web. It's also the year Microsoft Silverlight and Sun JavaFX were debuted to the public. I do believe the two debuts, in a way, is the great endorsement to RIA space where Flex has been lonely enjoying.
For Silverlight, it grows in the same pace as Flex. It's kind of showing slow down in Silverlight and increasing in Flex in the mid 2008. Regardless, in a short one year, it's a very impressive establishment and achievement to the young Silverlight. Congratulations!
It's a different story regarding JavaFX. I believe we can start writing off JavaFX as a major RIA technology. It's not. Anymore. It's just a burp from Sun and there is no momentum, nor enthusiastic demand from people either. By knowing some about JavaFX, the JavaFX Script is the one to blame. Why any developer or designer will want to learn another can-not-tell-what-it-is type of new ugly language, when there are real languages such as the ActionScript added to Flash, C# from MS bag of trade or JavaScript, or even Java. When there are way way too many scripting languages screaming for attention with many smart kids behind them carrying sex toys such Rails or Gails, why and why the hack Sun thinks anyone cares about JavaFX Script? Sorry for the vent, but get real, Mr. Sun.
Moving on, to avoid bias, I tried another way of searching the trend. I added owners to these technologies because I know "Flex" is more general term than the others. Just to be fair. The result is bit different: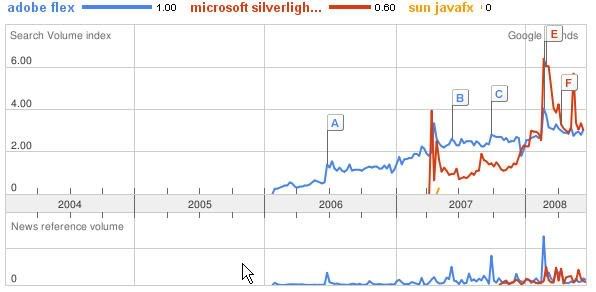 The chart at least confirm my statement regarding writing off JavaFX. It did on the chart. I somewhat think this is a more accurate chart than the previous one, even though it bothers me seeing Silverlight is having upper hand over Flex this year so far.
Adobe bought Macromedia in late 2005 so that the chart shows less history of Flex. When Microsoft announced Silverlight early 2007, it spiked people's interests. Earlier this year when Microsoft announced Silverlight 1.1 beta at MIX, as the chart shows, it took off. Overtime, it's now at the similar level of Flex.
So, from now on, shown on the chart, the real competition begins, after the initial push winding down and the new guy is back to solid ground. The next half of 2008 will be very interesting for seeing how the chart will be drawn.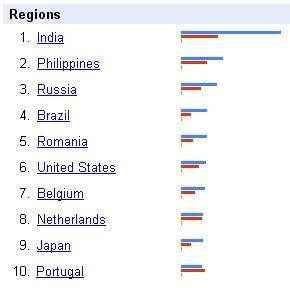 Another interesting observation is the top 9 regions searching these technologies. The U.S. is number 6. Why most the people searching Flex, Silverlight or JavaFX are from India, Philippines, Russia, Brazil and Romania? Are there the most of RIA developers in? I can explain the software development power houses of India and Russia. But Romania?
Can anybody has a better theory?