Posted by Charles | October 24, 2006 .
After $3mil and one year, here comes the Flash based social network local focused startup, SmallTown.
Readers of Flex888 should realize by now that Flash is increasingly a UI platform of choice for steam of startups. SmallTown's strength is its Flash UI, so is weakness.
SmallTown allows small business such as babysitters or electricians to create a "web card". An elaborated one could cost $40/month. People can review the card or engage in discussions.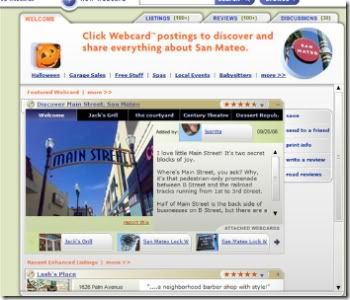 The SmallTown UI works well enough. Even though for $3mi I would expect more. As far a social network site goes, it's hardly to say if the Flash UI adds up any attraction or not. Tapping into local business is a big deal among social business concept. This is a good attempt.
Posted under
Adobe Flash
,
Beautiful Web
,
Startups
|
1 Comment
Like this article? Subscribe to our RSS Feed