Posted by Charles | October 25, 2006 .
It feels like everybody got the same idea the same time to start doing some Flash based startups. It just keeps coming.
Now it's the Toufee. Still remember the days spending hours to create Flash banner using Flash Studio? Later there were list of tools to help doing that in minutes. I still have some of them installed, Mix-FX, Anim-Fx and Flash tools from Amara. Toufee does exactly those local tools do but online and free. I did the Flex888 banner above in two minutes with Toufee.
To be honest with you, Toufee UI sucks! It's very bad. Hey, it works and free. See for yourself. Please notice the cut off of fonts everything. That's not me, it's their UI.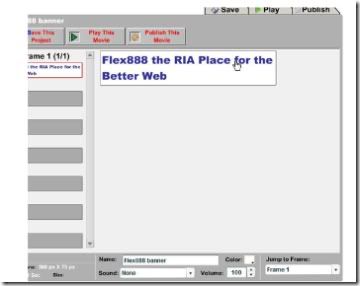 Come on, Toufee, you can do better.
Posted under
Adobe Flash
,
Beautiful Web
,
Startups
|
6 Comments
Like this article? Subscribe to our RSS Feed