Posted by Charles | July 28, 2008 .
Are frameworks healthy supplements or slowly-but-surely poisons to the young RIA world, especially beloved Flex? Are those design patterns the steroid pills or wight-loss metabolism justified medicine?
Take a look at what Yakov Fain came up with based on the PureMVC framework: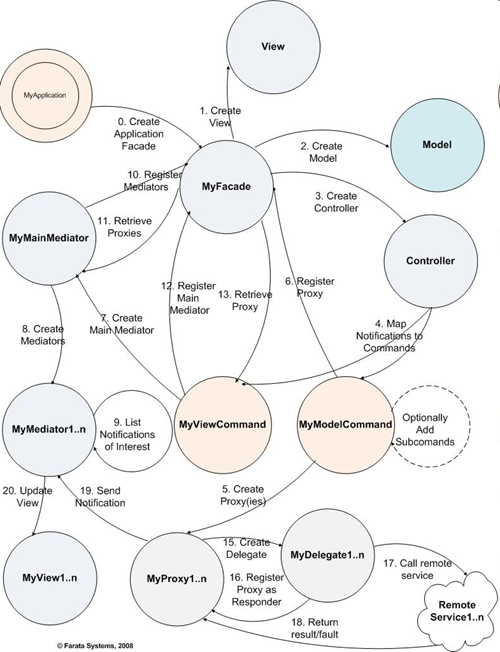 It is the PureMVC workflow Fain draw after exploring the code. I'm amazed and disgusted by seeing so many "junks" injected into a Flex application via a framework. As Fain stated, "Overall, PureMVC seems to be over-engineered. The learning curve is steep, too many tiers, dependencies, singletons. " Is that a common problem to all the frameworks?
We really need stop taking a RIA as a whole world and applying your hard-earned skills and knowledge accordingly. A RIA is just a small portion of what you will build in the real world. Harry Vikatos's What Can be Behind Flex illustrated what the full RIA enabled application looks like.
I believe (am I wrong) most of the people developing frameworks for Flex/ActionScript are/were good Java developers. What they are doing is pretty much the same, applying those design patterns and what have been done on J2EE world, and porting them into the UI centric Flex world.
That's where the problem comes from.
The J2EE world is server centric. Many of the patterns implemented inside those J2EE frameworks are meant to be able to get deployed across multiple servers. That's why there are blocks, layers and tiers, all sorts of separations and abstractions. And now, dragging all these into UI centric technology space, that's very problematic, or will be.
Besides, have you noticed that the Java world is over packed with frameworks, which are becoming heavy languages the Java developers have to carry? If you are supper Java programmer, you are not good enough and can't start putting down single line of code before learning all sorts of frameworks/packages, Spring, Hibernates, etc. The list goes longer and longer. Just wait till that single line of code broken and start the debugging endeavor. I know that's the reason some Java alpha geeks love Java, the playground is getting bigger and the maze is getting more complex.
Is Flex heading to the same direction with increasing number of frameworks be developed?
Don't get me wrong, I can argue strongly for the frameworks in terms of the necessity and the benefits. I'm just concerned when people stack a framework into theirs apps, see the app running and get thrilled about it without knowing what they are getting into.
Although I can't see why we should anti-framework, it'll be nice the gurus in the Flex community start leading the community to cross the UI space and step into the bigger IT world. It'll be great if we can find a middle ground for Flex, for frameworks, for servers and for the web could. Can we, shall we, will we do that?
Posted under
Adobe Flex
,
Thinking Loud
|
5 Comments
Like this article? Subscribe to our RSS Feed