Posted by Charles | October 13, 2008 .
At last week's annual meeting, Oracle's top dog told shareholders, "Acquisitions that we have been looking at for some time may now be more attractive." That made me start thinking the good old topic again, is anybody buying Adobe?
If look at Adobe's stock in for 2008, you would find that Adobe was very hard to swallow early this year. I recalled read from a magazine that Adobe's CEO said they were too big now to be bought out. But how about now?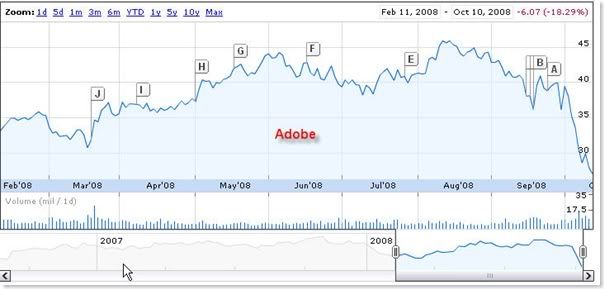 Here is another chart showing all the big dudes that could be the potential buyers. They are Apple, HP, Oracle, IBM and SAP.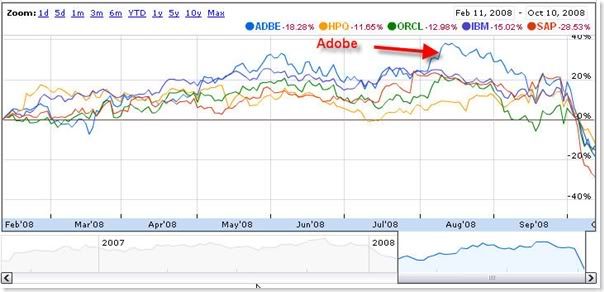 Obviously they are all in the similar territories in terms of percentage lost. It's seemingly that nobody has the stomach at this moment. However, among these technology giants, a few of them are sitting on big piles of cash. I won't be surprised to see some of them make a move to snap up goodies. After all, how many times in the history such opportunity presents to the cash owners?
After the dust settled in the Wall Street, I'm sure we'll see some exciting M&A in the tech market.
Posted under
Technology
,
Thinking Loud
|
Comment
Like this article? Subscribe to our RSS Feed