Posted by Charles | October 16, 2008 .
Back in April, Yahoo acquired IndexTools, a provider of analytics software based in Hungary. Last week, that service has re-emerged as Yahoo Web Analytics, and is being offered as a limited beta to customers of Yahoo Small Business. Additionally, the tool will also be made available to select Yahoo advertisers.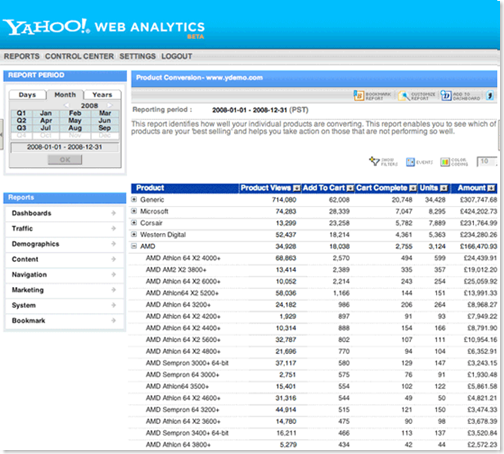 Web Analytics is not something new, I'm sure most of bloggers are using Google Analytics to get insight on how their blogs are perceived online. Especially for people in the e-commerce space, web analytics becomes the essential tool to understand their customers and what their customers want.
How about Flash analytics?
Am I asking too much before we haven't even got Flash indexing (Flash SEO) sorted out yet? I can see there are three possibilities:
A Flash based site (or a Flex application) is not geared for the use that needs web analytics type capability. If needed, go with HTML.
This is a huge opportunity of innovation for creative Flash/Flex developers.
Who cares.
How do you think?
Posted under
Adobe Flash
,
Adobe Flex
,
Thinking Loud
|
4 Comments
Like this article? Subscribe to our RSS Feed